owenrudge.co.uk Awards
Last Updated: 25 September 2000
This part of the site is where I list a number of web sites I think deserve an award. If you have seen a site you think deserves an award, please e-mail me!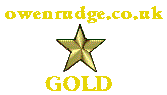 August 2000 Award Winner
www.emmabunton.co.uk

emmabunton.co.uk is an excellent site for Emma Bunton fans. It contains plenty of information, hundreds of pictures, and has an easy-to-use, attractive interface. A worthy winner of the Gold award!

September 2000 Award Winner
www.vbwire.com
VBWire is a great source of Visual Basic news, reviews, hints, tips and many other VB-related things. Well worth a visit!